News & Events
Arabian Travel Market 2017 in Dubai
TBO Holidays Celebrated Their 5th Annual Awards Night with Star Wars Theme
World Travel Market 2016 in London
Mr. Gaurav Bhatnagar, M.D TBO Holidays speaking at the world travel market 2016 in London
The World's Greatest Brands 2015-2016 - India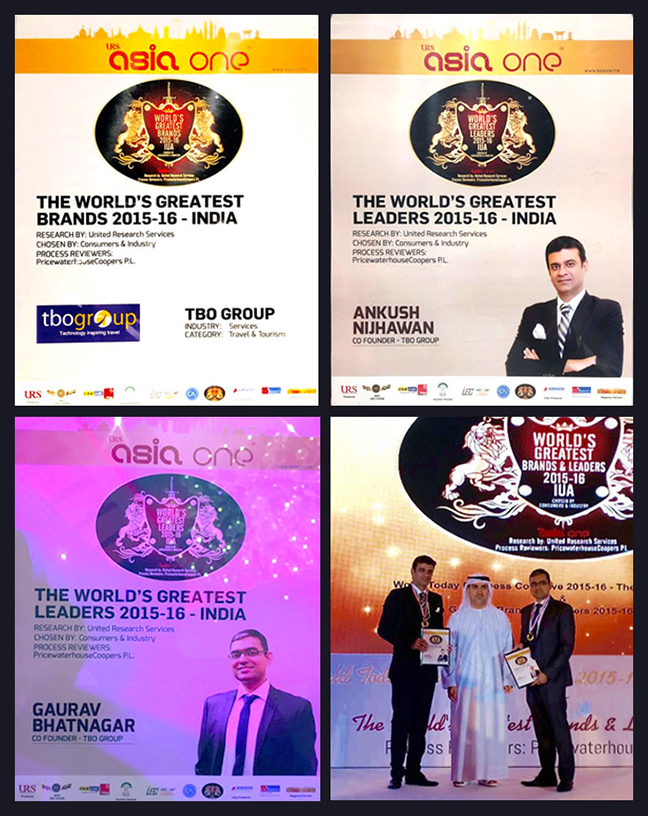 TBO Group has been awarded The Global Brand in India, Middle East & Africa for its services to Travel & Tourism Industry at The World's Greatest Brands 2015-2016 event. Also, Mr. Ankush Nijhawan, The Co-Founder of The TBO Group, has been awarded The Global Leader at The World's Greatest Leaders 2015-2016 event by United Research Services and Pricewaterhousecoopers Private Limited at Abu Dhabi..
World Travel Market in London 2015
Mr. Gaurav Bhatnagar, M.D TBO Holidays speaking about new developments at the World travel market in London
We have a new office in Kenya & Nigeria
Dear Partners
We are pleased to let you know that we have recently opened a new office in Kenya & Nigeria. This move has been made with the aim of offering the best possible service to all our agents based in this part of the world. Our Key Business Development Manager, Mr Amit Tiwari, and the TBO Holidays Consultants, Ms. Rachel (Kenya) & Mr. Ojah Okoro (Nigeria) are dedicated to ensure that our presence in the Kenyan and Nigerian market continues to grow. All of our agents in Kenya and Nigeria can now benefit from the following:
Acceptance and remittance of local payments.
Local support.
Local relevant content - directly contracted local hotels.
Kenya Office Address
Capital West Building,5th Floor
Lantana Road Off Rhapta Road
WestLands.
P.O Box 47963-00100
Nairobi,Kenya
Nigeria Office Address
Media24 Nigeria ltd
22 Association Avenue
Snow Microfinance Bank
Building Ilupeju, Lagos
World Travel Market in London 2014
Mr. Gaurav Bhatnagar, Managing Director TBO Holidays speaking at the World Travel Market in London